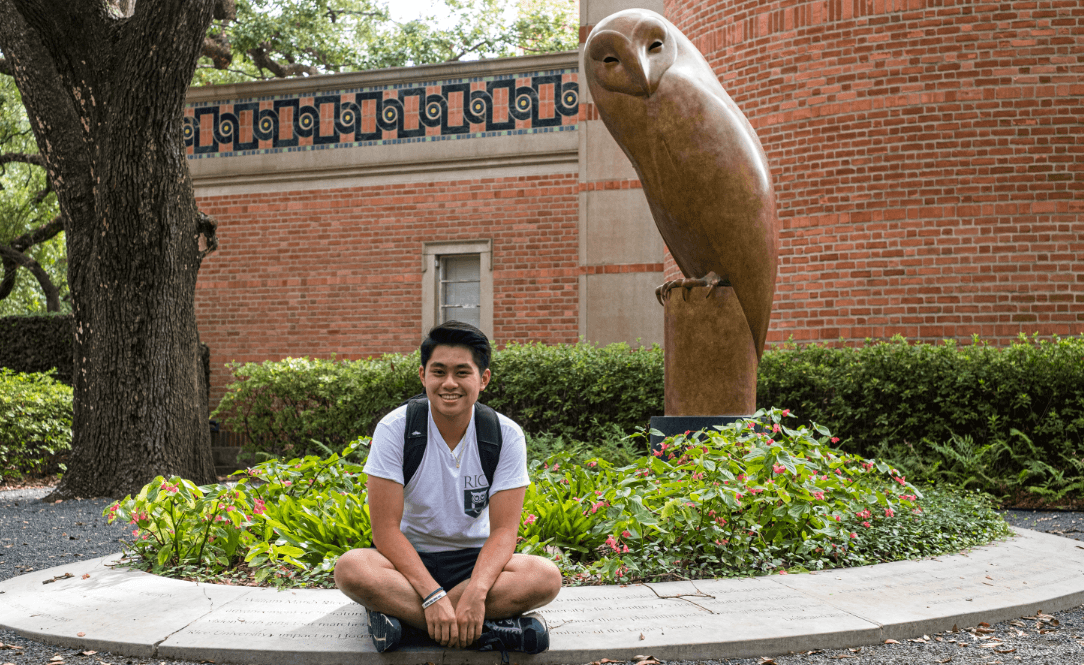 Johnny Dang '22 did not always see himself getting a college degree. As a first-generation student, he assumed that higher education was financially out of reach. "Even though I saw my peers applying to college, I was worried about how I was going to pay for my education," Johnny recalls. "It was a crisis moment for me." Johnny chose Rice in large part because of its generous financial aid policy and student-centered environment. The incredible support Johnny received as an incoming student inspired him to give back to his peers as vice president of Martel College, an O-Week advisor and a campus tour guide.
Johnny appreciates that Rice offers not only the academic foundation he needs to prepare for medical school but also leadership and learning opportunities that will help him become a more effective and impactful physician. Serving in leadership roles has opened Johnny's eyes to the wide range of viewpoints on campus and has given him an understanding of the diverse issues that matter to his fellow Owls. "This has helped me cultivate empathy and open-mindedness," Johnny reflects, qualities he believes will serve him well in his future career.
This transformative experience extends to Johnny's studies as well. His first-year writing intensive seminar broadened his academic interests and inspired him to pursue a double major in English. "In the same way that serving in Martel government has opened my eyes to the perspectives of my peers, studying literature has exposed me to the stories and experiences of people from all over the world," Johnny reflects. "Being at Rice has taught me to value more than just scientific expertise and has instilled in me the importance of community — of being part of something larger than myself."
For Johnny, one of the best parts of his Rice experience has been seeing how his growing confidence has impacted his entire family. "Seeing that I have a voice and can make a difference has definitely given my parents a great deal of pride in themselves and in our community," Johnny explained. In fact, witnessing the support Johnny receives at Rice has motivated his parents to encourage other families to help their children seek out resources for college. "I am so grateful that my experience with The Rice Investment has helped my family recognize that higher education is possible for people from my community — that it is possible to achieve the American dream."
If you are interested in supporting The Rice Investment, contact Development and Alumni Relations at stewardship@rice.edu or 713-348-4383.