Student Philanthropy
Giving as a student is a meaningful expression of pride in and appreciation for your education. It supports many of the essentials that make Rice so special, including a diverse and talented student body, an amazing faculty and a vibrant college life. Your gift (of any size) enhances the value of your degree and that of generations of Owls to follow.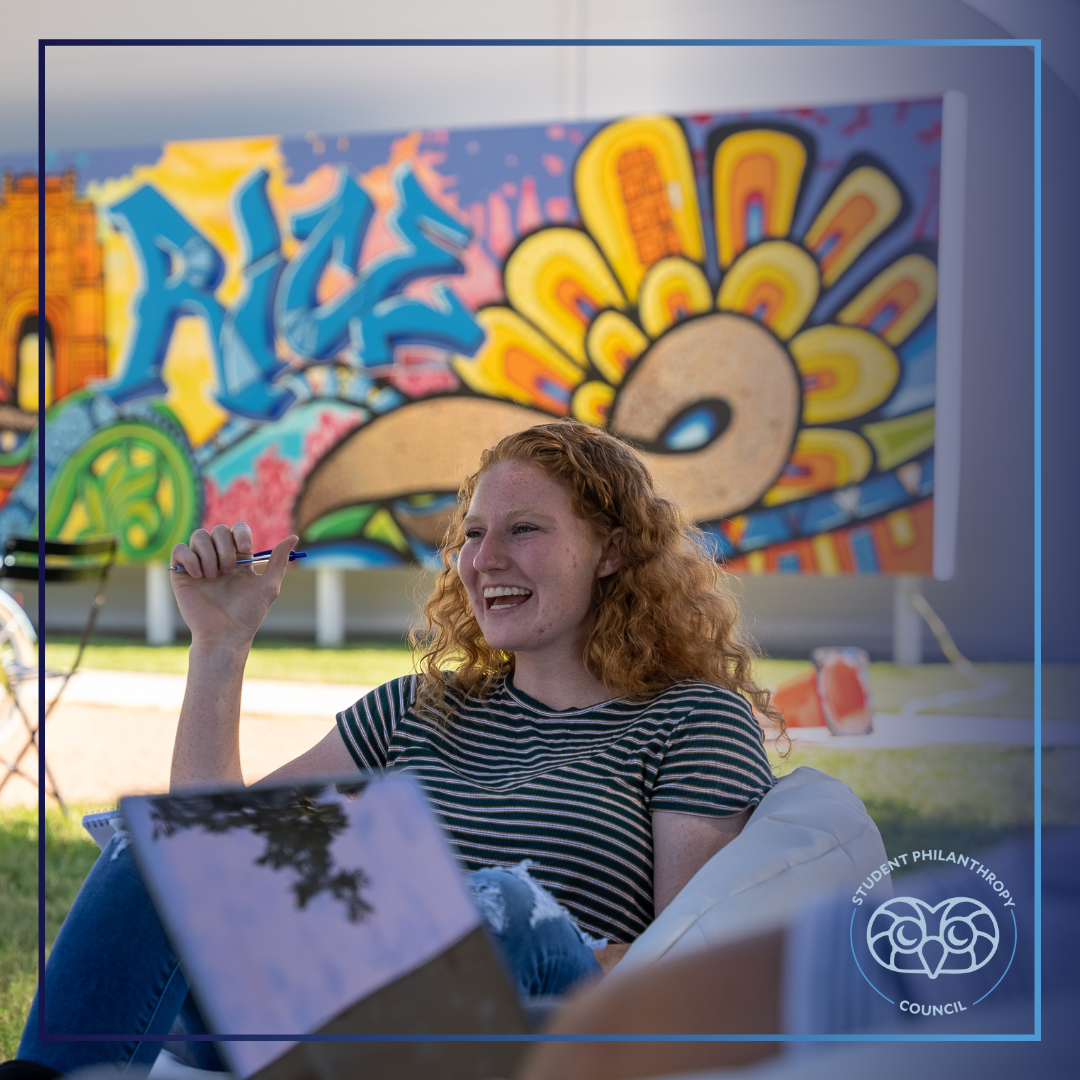 Student Philanthropy Council
The Student Philanthropy Council (SPC) is a group of student volunteers who share the importance of philanthropy at Rice with their classmates. SPC volunteers organize and promote events, such as senior class giving campaigns and thank-you note-signing stations, while connecting with alumni, parents and friends who support the Rice Annual Fund and keep Rice such a remarkable place to live and learn.
Want to get involved? Join the SPC and educate your peers on the importance of philanthropy through engagement events and crowdfunding. Have questions? Email ricespc@rice.edu.
Support the areas you're passionate about
Access, Opportunity & Inclusion

The Access, Opportunity & Inclusion Gift Fund supports discretionary funding requests that can include diversity and cultural programming, or financial support for low-resourced students (for example, internship related expenses, test preparation, travel to advanced degree interviews, textbooks, course fees, financial emergencies, commencement regalia, tickets to Rice events, medical co-pays).

Student Wellbeing

The Student Wellbeing, Rice Counseling Center, and the SAFE Office provide critical prevention and awareness programming to students at Rice. The offices also attend student programming, groups, social events, College specific meetings, Student Association town halls, and much more.

Undergraduate Scholarships

Gifts to the Rice Annual Fund are immediately directed to areas of the university that need resources the most, such as undergraduate financial aid through The Rice Investment, residential college support, and academic enhancement.

Rice PRIDE

From open-mic nights, to drag shows, to daily, volunteer-led office hours at the Queer Resource Center, Rice PRIDE serves as a student-led forum for the hundreds of LGBTQ+ undergraduates at Rice to find community, support, and success.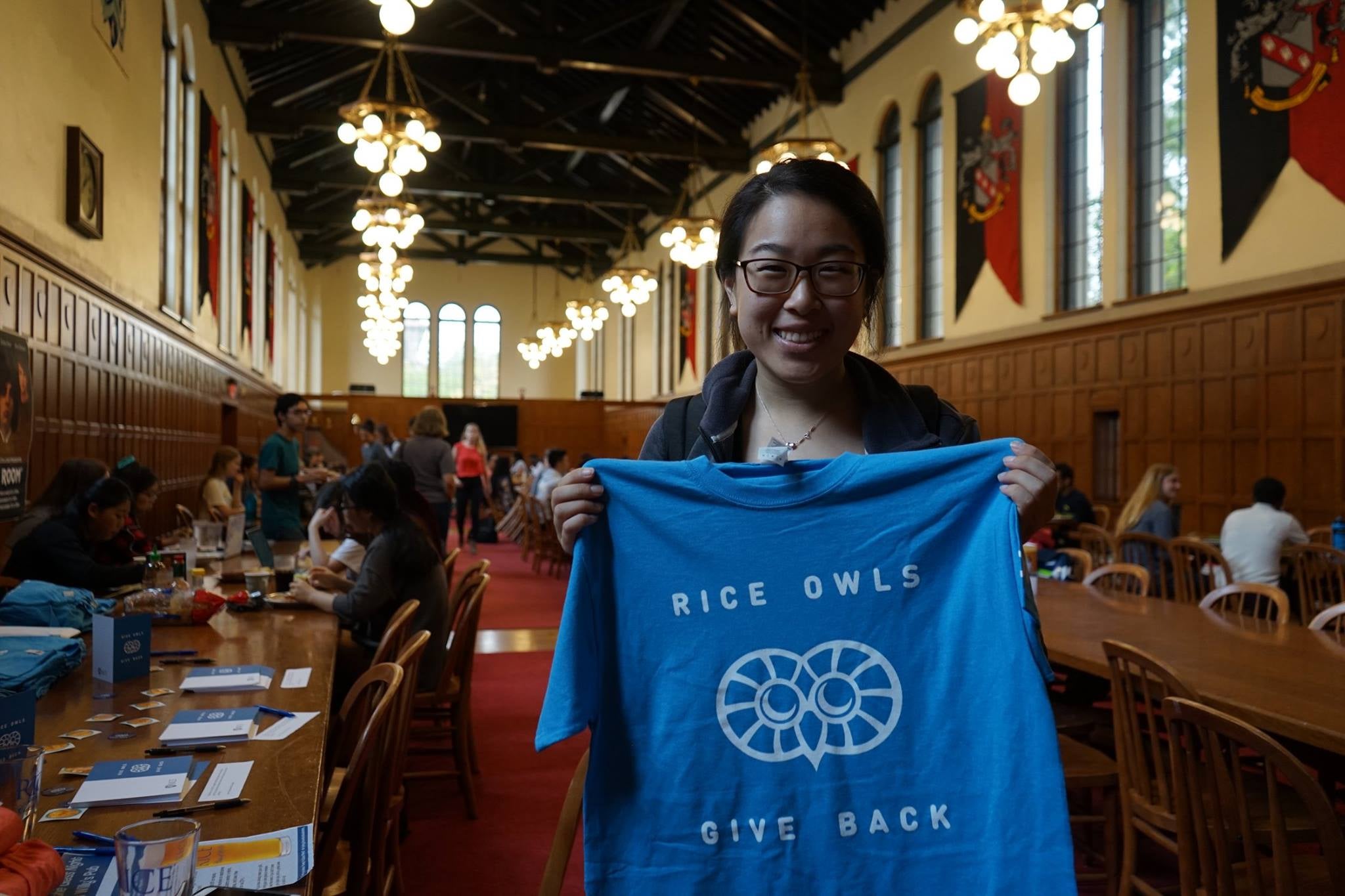 Rice Owls Give Back!
Rice Owls Give Back (ROGB) is an annual campaign hosted by the Student Philanthropy Council during which the student community signs thank you notes to the Rice donors who generously support scholarships and the student experience. This year, more than 400 students signed thank you notes to donors and shared how their gifts have made an impact on campus!
Check back for dates for next year's campaign or follow the Student Philanthropy Facebook and Instagram accounts for updates.
A message to the Class of 2023
Each year, the graduating class comes together to celebrate their time at Rice, and to raise funds and awareness for areas of Rice that directly impact the undergraduate experience. The Student Philanthropy Council focuses on two goals: creating fun and memorable opportunities for class connection and raising support for areas of Rice that make it a more equitable institution, such as financial aid and scholarships.
Throughout the year this page will be updated to reflect giving opportunities, class events and highlights from the campaign. We hope you'll join us from now until graduation in coming together to celebrate and make an impact!
Senior Giving Campaign
Participating in your senior giving campaign is a meaningful expression of pride and appreciation for your education. It supports many of the essentials that make Rice so special, including a diverse and talented student body, world-renowned faculty, and a vibrant college life. Your gift of any size will make a difference!
In addition, graduating seniors are counted toward Rice's overall alumni giving participation rate. This percentage is used by publications like U.S. News & World Report to rank universities. Rankings can affect Rice's ability to secure competitive grants and other important funding.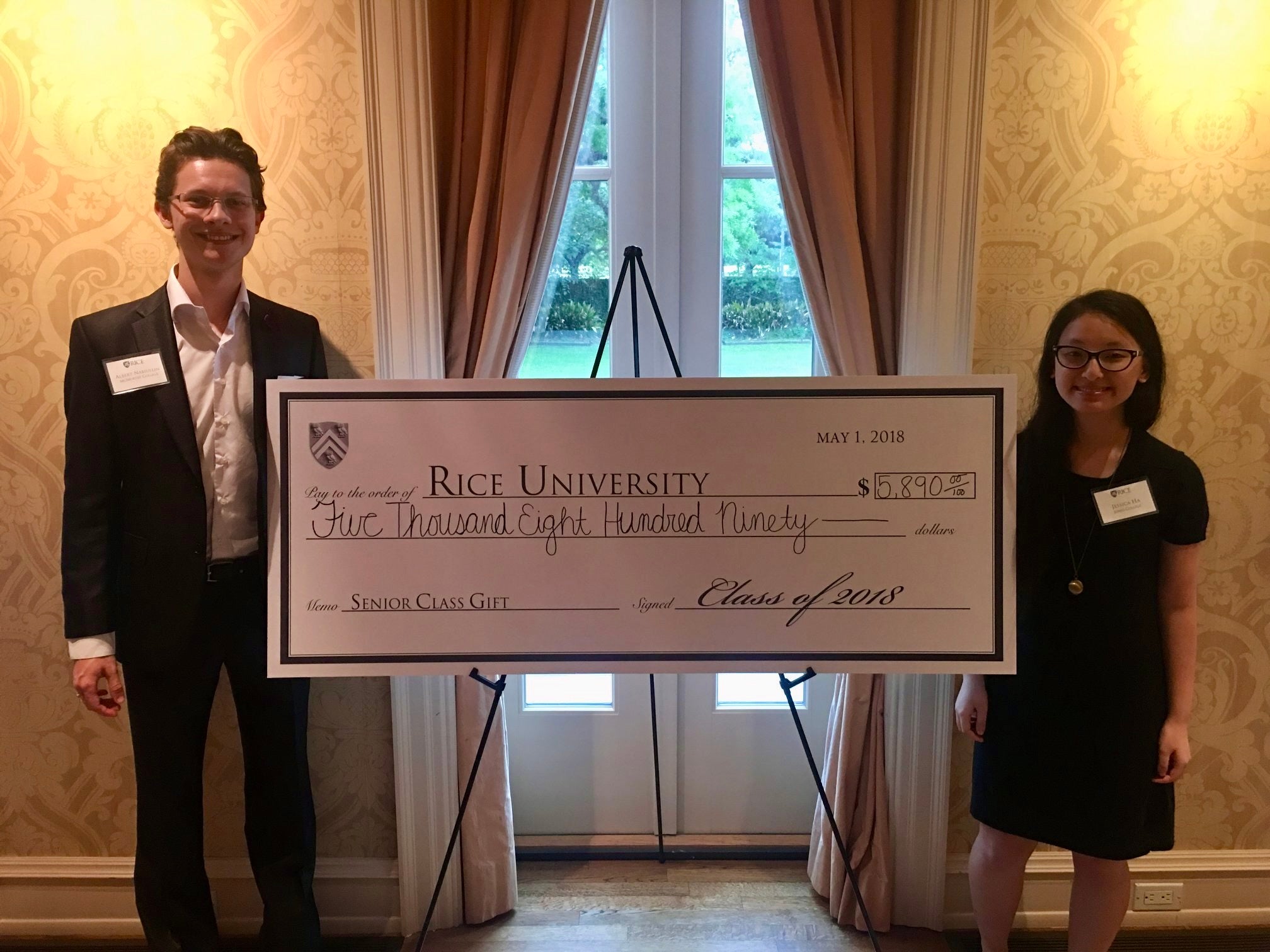 Senior Pint Night
Senior Pint Night is an annual celebration hosted by the Student Philanthropy Council to celebrate senior donors and their time at Rice. Participants enjoy an evening of music and beer with their classmates and pick up a pint glass customized for the Class of 2023.
Donations made at Senior Pint Night honor the people and programs that made students' time at Rice so meaningful and count toward the 24-Hour Challenge, Rice's annual day of giving. It's a great time to come together and raise a glass to the Class of 2023!
FAQ's about Philanthropy at Rice
Rice has a large endowment. Why does the university need my support, too?

Think of it this way — the endowment is Rice's savings account, and the Annual Fund is the university's checking account.

Endowments are restricted funding, and their earnings cover less than half of the university's annual operating budget. The endowment is extremely important to Rice's long-term health, but gifts to unrestricted, current-use funds like the Rice Annual Fund play a major role in bridging the gap.

How does the Rice Annual Fund differ from endowments?

The Rice Annual Fund's current-use gifts are those that can be used right away, without an endowment's restrictions.

The Annual Fund supports undergraduate scholarships, the residential college system, student and faculty research, and much more. You are helping your classmates when you make a gift!

What does the Rice Annual Fund support?

The Rice Annual Fund supports the overall Rice student experience! The Annual Fund raised $7.9 million over the 2019-2020 fiscal year. Here's a breakdown of what that funding supported:

Top 4 Areas of Rice Annual Fund Support:

The Rice Investment/ Undergraduate Scholarships = $5.5 million
Library Resources and Academic Initiatives = $830,000
Undergraduate Student Life and Campus Safety = $745,000
Graduate Student Support = $348,000

What if I want to give somewhere else on campus?

You have the power to designate your gift toward what you are most passionate about on campus.

That's right! You can give to your favorite club, student organization or academic program — wherever at Rice you want to support. The possibilities are endless.

I can only give a small amount. Will my gift make a difference?

Absolutely! In fact, in the 2021–2022 academic year, gifts of $100 or less totaled $410,739! Every gift to Rice has an enormous impact on campus.

How else can my gift impact the university?

Participation is also an important part of giving.

When a current senior or alumnus/alumna gives, his or her gift counts towards Rice's official giving participation rate, which means that you improve the university's national rankings and increase our ability to earn grants that depend on community support. (And ANY size gift counts toward participation!)

Participation also measures alumni satisfaction and engagement, so your gift shows your loyalty and confidence in the Rice experience, which increases the value of your degree.

I heard that there are recognition societies at Rice. How do I join them?

Good question! There are quite a few different recognition societies at Rice.

The Parliament: The Parliament is a consecutive recognition society at the university that recognizes dedicated Owls who — by making a gift anywhere at Rice for three or more consecutive years — advance the university's students, campus and community.

​Leadership Giving Societies: The Rice Annual Fund relies on a strong tradition of leadership giving to support the scholarships, academic resources and campus life initiatives that keep Rice unique and vibrant. Recognition at one of these levels is based on unrestricted gifts to the Annual Fund, including corporate matching gifts, during one fiscal year (July 1–June 30). Undergraduate students who make a gift of $50 or more to the Annual Fund are considered leadership donors.

Additional questions?

The Rice Annual Fund team is standing by to answer any questions you may have. Feel free to call or email us at 713-348-4991 or giving@rice.edu.