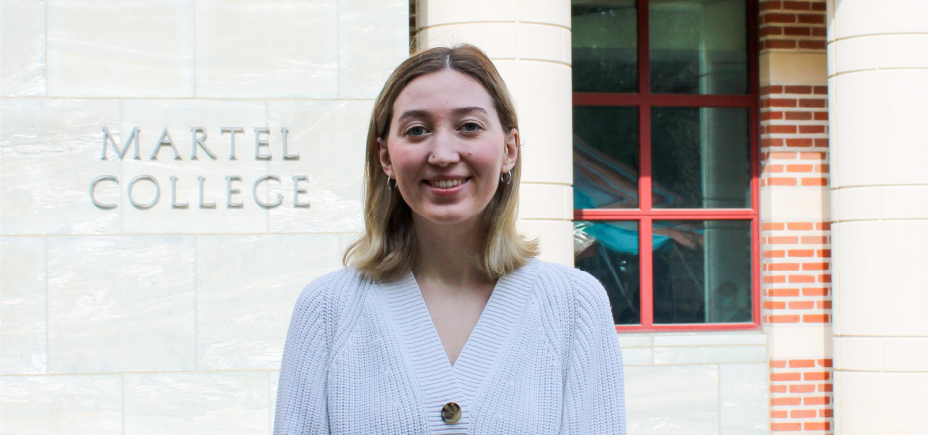 When asked why she chose to come to Rice from the cold suburbs of Chicago, Kayt Ribordy '22 (Martel) laughs, "I've never been a big fan of winter, so I definitely wanted to go somewhere out of state — and warm." Kayt initially learned about Rice from her older sister's college search. Once she heard about the residential college system and top-notch academics, Kayt was sold, and when the time came for her own college applications, Rice was already at the very top of her list.
"Rice was my dream school," Kayt remembers. "When I was accepted, I knew the only possible stumbling block was financial aid, but then Rice gave me the best financial aid package of any other school. It's amazing that The Rice Investment allows me — and now my little sister — to be here."
Now a senior, Kayt looks back on her time at Rice and can't help feeling fortunate. "I've been so lucky with the people that I found here, like my suitemates who I've been living with since freshman year. And I've been so lucky to have a support system since the very beginning that helped me adjust to classes and college life," she says.
Kayt knows that her incredible experience at Rice didn't happen by chance. She is grateful for all the dedicated students who make up Rice's supportive community, and she gives back in her own way to ensure new Owls have the same welcoming experience she did.
As an academic mentor at Martel, a peer academic advisor and an O-Week advisor, Kayt provides mentorship for students across campus. "Being part of an advising team is so rewarding," Kayt says.
Watching the individuals who I met on their first day of college grow as people and students has really solidified my love for student leadership and mentorship.
Kayt's leadership roles extend beyond academic life. A loyal Martelian, she was secretary and then prime minister in her residential college government, and she was involved in the spirit committee to plan events for the Martel community. Kayt is also one of the music directors for her a cappella group, the Low Keys, leading practices and arranging music for her group to sing.
Through all these opportunities, Kayt has clearly discovered her passion for mentorship — a passion she will pursue as a math teacher in Idaho next year through Teach for America. "I never expected to like my STEM classes so much at Rice. Now, I look forward to instilling enthusiasm for math in my students," she says.
Now a senior, Kayt looks back on her time at Rice and is grateful for the diversity of people, thoughts and backgrounds represented throughout campus, which is something she credits to The Rice Investment, the university's generous financial aid policy.
It is so important to level the playing field to ensure the quality and diversity of voices," Kayt explains. "The Rice Investment lets so many different people come to Rice who otherwise might not have been able to afford tuition. It's what makes Rice such a special place.
With generous support of the Rice Annual Fund, the university continues to offer Kayt and other Owls the best in residential college life, student activities, teaching and research. Learn more about how your gift to the Rice Annual Fund can make an impact.